.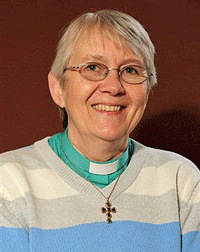 The Rev'd Jill Bond was married in 1967 and has two children, Oliver and Victoria. Jill taught in various primary schools, first in London and then in Northamptonshire before her children were born, and then again between 1967 and 1994 after her children were themselves at school. She moved to Gloucestershire in 1995 and trained as a Lay Reader specialising in ministry to children and was licensed as such in 1998.
(Return to top)
Jill has been much involved in work with children, particularly in the local village primary school, as well as in more general ministry. In 2004 she attended training again for ordination and was ordained as a priest in 2007. As an Ordained Local Minister (OLM
*
) Jill served her curacy here in the Benefice of the Leadon Vale, where she was an Associate Priest until she retired as an OLM in 2015. She now has the 'Bishop's Permission to Officiate' so still takes Services and helps in the Benefice.
(Return to top)
*OLMs are also part of the larger group called SSMs - Self-Supporting Ministers. They are full priests and like NSMs earn their living and practice their ministry by working in industry, commerce and after retirement, but unlike NSMs they are not a nation-wide ministry but are licensed specifically to the parish or benefice where they live, although they can occasionally officiate elsewhere for a special reason
.
(Return to top)