People
.

The Ministry Team serves the whole of the Benefice, which comprises 9 parishes with 9 churches. It comprises the Rector, 3 Associate Priests, 2 'Readers', 2 'Lay Pastors' and several regular members of the congregation.

For details of Dymock's officers, click here: Priests, Readers, Lay Pastors, Churchwardens, PCC Appointees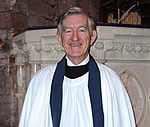 David Clowes has been married to Ruth for 41 years. They've lived in Dymock for 4 years, having previously lived in Surrey and the Coventry area. They've a son called Philip and two grandchildren, Polly and Thomas who live in Somerset. David retired to Dymock after a career as an engineer in Transport Control Systems. He was licensed as a Reader and served in the Coventry diocese in 1978 before moving to the Southwark diocese in 1983 and to Dymock in 2003. (Readers are admitted to a nation-wide ministry but are usually licensed to one area at a time). (Return to top)
.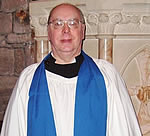 Canon Roger Parker has been married to Sandra for 37 years, having met through a church amateur dramatics group. They lived in the London suburbs until they moved to Donnington next to Dymock in 1996. Roger is retired from a career in electronic design and project management. He'd led youth activities and adult enquirer's groups so was delighted when, in 1997, he was invited to join the Dymock Local Ministry Team. In 2003 he began training as a 'Reader' and on completion of training in 2006 was licensed to the Benefice. He was appointed a Lay Canon of Gloucester Cathedral in 2012 for his services as Parish Share Officer in the Severn Vale Deanery. (Return to top)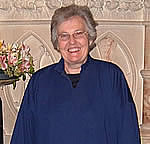 Ruth Blandford was married to Jeff for nearly 44 years until he died in 2002. She's lived in Leddington since being married in 1958 and has 4 sons, Brian, Trevor, Neil and Simon and one grand-daughter, Ella. Ruth was one of the original 'Lay Pastors' formed in 1982 by the Rev'd Reg Legg (a previous vicar), which transferred to the diocesan Local Ministry Teams (LMT) when that was subsequently created. Ruth has also been a churchwarden at Preston Church since 1976. (Return to top)
.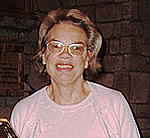 Ruth Clowes has been married to David for 41 years having previously lived in Surrey and the Coventry area. They've a son called Philip and two grandchildren, Polly and Thomas who live in Somerset. Ruth retired from a career as a Dietitian in 2002. Whilst living in Surrey, she trained and was licensed to the diocese of Southwark as a Southwark Pastoral Auxiliary (SPA). She was an honorary lay chaplain at Southwark cathedral and has continued that role at Gloucester cathedral where the team of lay chaplains offer pastoral care and prayer ministry to people who visit the cathedral. (Return to top)