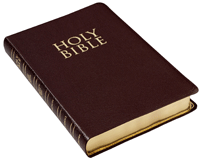 Module 0/5 introduces the Bible. If you're already familiar with the Bible, you can skip Module 0/5, or you might prefer to read it as a useful revision.
'The Bible' is the Christian Holy Book which contains details of earlier people's experience of God. It's written by humans, so limited by human language and knowledge, but it's inspired by God, so it's often called the 'Holy' Bible. The title 'Bible' is a Greek word that just means 'Books'. It's divided into two sections, the Old and New Testaments.
The Old Testament
(OT) covers the centuries from the creation of the universe to just before the coming of Jesus in human form and is written in many different styles including: Story (both factual and symbolic); Law; Wisdom; Proverbs (tips for living well), and Prophecy - predictions of future events. Module 0/5 gives a description of these different sections and a brief description of each book's principal content.
The New Testament
(NT) reveals the birth, life, death and resurrection of Jesus Christ, what his followers did immediately after he returned to heaven, and a vision ('Revelation') of how it will all end. The content of the New Testament is described in Modules 2 and 3 so we don't include a summary here.
There's usually a list of books, with the abbreviation used for their name, and the page number they start on, shown in the 'Contents' section of most Bibles. To help us find a specific place, each book in the Bible is divided into 'chapters' and 'verses', usually written in the form:
Book, Chapter : Verse
eg: Gen 1:5 = Book of Genesis, chapter 1 : verse 5.
Gen 1:1-28 = Book of Genesis, chapter 1 : verses 1-28 inclusive.
(Return to top)