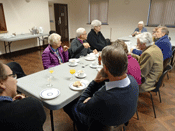 The Bishop of Tewksbury, Rt. Rev. Robert Springett, was invited to be our guest at our regular Men's Breakfast earlier this year, but said he'd rather come in the autumn so he could tell us what happened at the 10-yearly Lambeth Conference of world-wide Anglican Bishops, held in Canterbury in June.
We decided, therefore, that it was more appropriate to invite everyone from our benefice's 9 parishes, so we held a 'Benefice Breakfast' in one of our Village Halls on Saturday 12th November instead with the Bishop as our guest; but due to unforeseen circumstances, the publicity hadn't been as great as it could have been, so there was a somewhat disappointing turnout of only 14 people, although they represented most of our 9 parishes.
Before the Conference, the British media had expected that, because of differences in teaching over the church's response to same sex relationships and marriage in the many Anglican churches across the world, either many bishops would refuse to attend or there would be arguments at the Conference. Bishop Robert was pleased to report that there were only a handful of bishops who didn't attend and, despite the differences in teaching, there had been little argument - the meeting was held in a friendly atmosphere which had included a trip for them all on the River Thames in London which had been impressive in the success of the arrangements to get them all there and back again in timely and orderly manner.
Bishop Robert was pleased to report that the Conference had agreed on many topics of interest to them all, not least the need to reach out better to non-Christians, and had agreed to accept their differences over matters they couldn't agree on, such as same-sex relationships, in a atmosphere of mutual love and respect. Maybe that's why there'd been little coverage of the Conference in the media, given the other major problems in the world at that time, not least war and famine.
(Return to top)