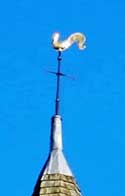 We had to have our lightening conductor checked by Dawkson Steeplejacks Ltd, as part of our 5 yearly building survey. They found there was a break in it, so it had to be repaired. However, whilst they had their ladders in place on the steeple they offered to grease the weathervane, which we accepted.
(Return to top)
Unfortunately they found someone had used it for target practice - there were four .22 bullet holes in it, so it needed to be repaired. As they had to take it away to make the repairs, we had it re-gilded at the same time to avoid the cost of erecting ladders again in the near future. (Return to top)
Below are pictures of the steeplejacks on the spire, giving an idea of the height involved - you can see Pam Warren, our then Bell Tower Captain, standing at the base of the tower watching the work in progress. One of the workmen building the new houses opposite was overheard to say "rather them than me"! (Return to top)
The weather vane (and clock) was last repaired in 1970 by Woods Brothers, Steeplejacks, in memory of their Father Walter Woods.
(Return to top)