We continued the pattern of Services devised four years ago to provide 'A variety of vibrant worship'. This provides each month two Services of Holy Communion with robed choir, one Service of Holy Communion said without any music or hymns, and one informal All-Age 'Family Service'. As usual, on the four months in the year with a '5th Sunday', we went instead to the United Service in one of our Benefice churches in turn. We also held a Service of Holy Communion on most Wednesdays and Morning Prayer (Matins) on most Fridays, dependent on the whether the Rector had been called away to another important meeting!

(Return to top)



On the last Sunday of the month, our young peoples' 'Fun Club' (modern Sunday School) met in the parish hall during the Service but joined us at the Communion Rail, then showed us what they had been doing in their event - usually on the same theme as the adult Service.

(Return to top)



We also held specially themed Services as is our usual custom to to celebrate Christmas, Easter, Pentecost, Mothering Sunday, Fathers' Day, Harvest, Remembrance and All Souls plus a Service of Confirmation with 5 candidates.

(Return to top)

Our team of ministers and lay pastors met every month as usual to review the rota of Service leaders, to discuss in confidence any particular pastoral care needs and occasional miscellaneous matters related to ministry and outreach in the 9 parishes. (Return to top)

It also met twice during the year for a longer half-day session to consider what we do spiritually, how our ministry and outreach are organised, and whether any changes would be advantageous. In particular it considered the Benefice's response to the Bishops initiative 'Journeying Together'. We agreed a Benefice-wide 'Mission Statement' and a strategy for the next couple of years for each of the four categories in Journeying together, which were subsequently agreed by each PCC, viz:

Worshiping Together: As a united Benefice as well as in each parish. Promote '9 parish' services more widely. Explore the provision of transport to all united services. (Return to top)

A Visible Presence in Every Community & Parish: Every parish to be represented in the Ministry Focus Group. Identify lay contact person for each parish. Ensure all activities are effectively publicised to the wider community. (Return to top)

Share our Christian Faith and Values: Promote personal discipleship through an appropriate learning programme. Make use of the new 'Experience Church' and 'Experience Eucharist' material to be published by the diocese to engage members of the local community. (Return to top)

Serving the Wider World: Explore a link with a church in one of our overseas link dioceses. Develop a 'Care Response' programme for our Benefice. (Return to top)

We've made a start on the first three: Our Rector made a suggestion for more regular 9 parish Services which wasn't fully accepted so is being explored futher. We have a new Team member from Pauntley but still need someone from Kempley and Bromsberrow. We experimented during Lent 2014 with the new C of E discipleship material 'Pilgrim' and we put notices on our principle church furniture items to explain their name and purpose to help the many strangers who visit the church for the Daffodil Teas, as suggested in the 'Experience Church' material. ('Experience Eucharist' hasn't yet been published).
(Return to top)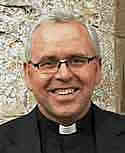 I feel that we have three key priorities over the coming year but, in fact, they all relate to the same over-riding issue - how we achieve greater unity within our group of parishes whilst also strengthening the life of each of our individual churches.

(Return to top)



I'm absolutely sure that it will be good for us as a Benefice and as individual parishes to have more regular opportunities to come together for worship. There is something particularly uplifting about worshipping in a full church. Exactly how this will work out I'm not absolutely sure so, in PCC and Ministry Team meetings, we will be exploring how best to achieve this goal. However, as the first of our priorities we will be looking at how we can make our regular '5th Sunday' services more special and therefore more attractive - visiting preachers, specific themes and making the most of some of the existing, but generally ignored, church celebrations (Rogation Sunday, Lammastide etc.), for example.

(Return to top)



Secondly, I am conscious that our Pastoral activity has not been particularly good over recent years. Many people do a huge amount of very good and valuable work but I would also like us to have a more focused approach to sick and hospital visiting, preparation and follow-up for couples coming for weddings and baptisms and bereavement visiting. New Pastoral teams will be constituted on the two sides of the Benefice to spearhead this initiative.

(Return to top)



Finally, the boring day-to-day administration of the Benefice; at present we do not have any official forum in which we can discuss issues that affect all of our parishes. The only way to make Benefice-wide decisions of this sort is for me to go round to 9 individual PCCs and discuss it with them. This is a very time-consuming and cumbersome way of working. I will, therefore be exploring how we can appoint a 'Benefice Council' that would be able to give unified leadership across our group.

(Return to top)



I feel really excited about all of this. These three initiative are all perfectly achievable and will, I believe, have a real, noticeable and positive impact on the way we do things and will be a major step towards fulfilling our stated mission: "To share the transforming love of Jesus Christ with people in and around the Leadon Vale."
(Return to top)