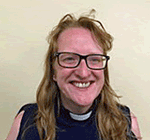 Bishop Robert of Tewkesbury was scheduled to come to Dymock Church on Monday 22 June to Licence and Install Rev'd Kat Mepham as our new Priest-in-Charge, but due to the coronavirus lock-down that wasn't possible. However, he still Licenced her - by Zoom video call ! She will be formally installed in the church in the traditional way as soon as we are allowed to gather in church in numbers again.
Representatives of our 9 churches, churchwardens, ministry team, denary, etc together with Kat, her family and her training vicar from her current benefice all logged on to Zoom, some 30 people, and Bishop Robert led the Licencing Service.
Ruth Blandford, a Benefice Patron and member of our Ministry Team presented Kat to the Bishop, one of our Lay Readers, Caroline Dunnet, read the first lesson, two of Kat's young children read the second Lesson and Archdeacon Hilary Dawson gave a short Address before Bishop Robert conducted the taking of oaths - and Kat had become our vicar. Hilary Morton, a churchwarden from Redmarley and Bob May, Chair of our joint Benefice Council, then led prayer before the Bishop gave the blessing and all congratulated Kat with a round of applause.
Her first Service will be the next Sunday 28th June, again by Zoom video, and all are invited to join in. If you need the log-on details, contact us by email
(click here).
(Return to top)