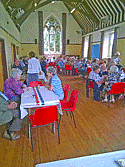 Sunday July 17th saw the events to commemorate the leaving of our Rector, Tony Lomas'. It began with a Benefice wide Service in Redmarley Church, which was full for the occasion, followed by a 'Pig Roast' in Redmarley Village Hall. The pig came ready cooked from a local butcher but the accompanying salads and scrumptious deserts were provided by members of the congregation.
(Return to top)
The Service of Holy Communion followed our usual format with the combined choirs singing an anthem whilst we received Communion, that had been written by our Organist and Choirmaster Bob May for Tony's inauguration 5 years ago. Although quite long it wasn't long enough as so many people were present and went up to receive the bread and wine. We didn't all fit into the main hall either so, as it was a dry day, some sat in the garden at the back of the hall and some in the second smaller room.
(Return to top)
As this was a scheduled Benefice Service it was used to commemorate the event when we were all together, but Tony has two more Sunny Service to do in one or other of our churches before he and Ingrid move to his new post in France afterwards.
(Return to top)