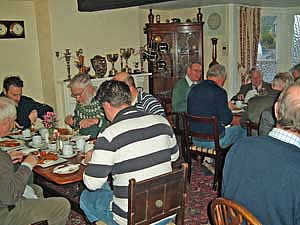 Our first Men's Breakfast this year was held on 4th January. Unfortunately we only found out at short notice that our guest speaker couldn't come, so there wasn't time to find a replacement. Consequently one of our members, Prof Basil Jarvis, kindly agreed to speak but instead of telling us about his career, he spoke briefly about his early life attending Sunday school in a Congregational Church. He subsequently went to university where he tried out several of the denominations including the Baptists and ended up with the Church of England.
(Return to top)
He made the point that, in keeping with many of our local churches, the number attending Dymock Church is relatively small, especially compared to some 'Evangelical' churches and the local Baptist Church at Gorsley, where their Services are more lively - some traditionalists in the C of E might say 'Happy-Clappy'. He asked why is it we don't attract many more?
(Return to top)
Our discussion talked about the style of our worship being more defined than some 'free churches' and certainly less 'lively', but also that we in the pews could perhaps do with improving our Christian knowledge so we're less hesitant in discussing our faith with others. We agreed instead of inviting an outside speaker next time in March, we'd think about our current situation a bit and how we might improve it.
(Return to top)