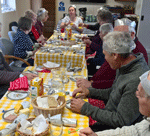 .
Dymock Church has long shared some activities with
Western Way Chapel
, a 'Free Church' in Dymock village, including work with young people and a monthly lunch with a film or talk from a Christian charity who work around the world.
In December, our monthly shared lunch usually has a Christmas theme, and this year was no different. We met on Thursday 12th December to share homemade soup followed by cheese and biscuits then homemade Christmas cakes and mince pies. After that we usually sing carols and share Christmas related readings people have brought with them to share, but his year was different - we had a Christmas-themed quiz; except few of us could work out the answers! Never-the less- a good time was enjoyed by all.
(Return to top)