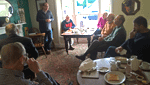 On Saturday 13th November we were able to restart our Men's Breakfast in the Beauchamp Arms Pub next to the church under it's new Landlord, Matt and his partner. After a Full English Breakfast Ali Mepham, the husband of our vicar Kat, told us about his background and current job as Diocesan Interim Minister.
He said he was brought-up in a non-believing house but in his late teens had an experience of Jesus and soon felt called to full-time Ministry. After a fulfilling training as a Curate in a parish in Wiltshire he's been a vicar in both large urban parishes and small country ones which suited him well for his current job as 'Interim Minister' - helping benefices 'in vacancy' (without a priest), or with a particular difficulty, to work out the way ahead for them.
In this context he believed every parish has different needs, so there isn't a set solution or way to proceed, but all are called to 'preach the Gospel to every generation' in ways that suits current thinking in their area whilst maintaining the traditional format for those who still want it - all under the wide guidance of the Church of England.
(Return to top)