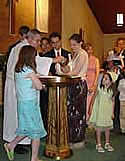 A Typical Baptism
Baptism (Christening) is the welcoming ceremony into the Church. It's not a 'naming' ceremony, a person's name is given when they are registered at birth, but it's a symbolic 'washing away' with water of one's wrongdoings - wrongdoings which we call 'sin'.
Baptism is only performed once in a lifetime but can be done at any age. Traditionally this was, and often still is, done as a small baby, but today people are also baptised as children or adults.
If done at an early age, people can optionally come back when they are old enough to understand for themselves in order to confirm the promises made at baptism on their behalf by their parents and 'Godparents'. That separate ceremony is therefore known as 'Confirmation'.
(Return to top)
Entitlement:
Everyone is welcome to be Baptised.
Details by arrangement with the Rector.
Cost:
Baptism is free.
Time of Ceremony:

At baptism one is joining the church, so it's good to do it at a regular Service
when all the church members are present.
(Click here for details of regular Services).


But it's often done at another time , please arrange through the
Benefice Office
especially if people have to come some distance,
and mid morning or afternoon is more convenient.
(Return to top)