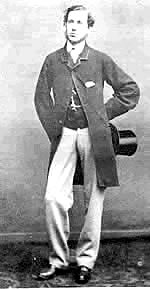 St Mary's Church in Dymock is very fortunate in having not just one but four windows by Charles Eamer Kempe - although it's said you can't go twenty miles in Britain without seeing one! The small pictures included below can't do them justice, they're best seen live, so worth a visit!
(Return to top)
Kempe was born on the 29th June 1837 and died in 1907. His ambition was to become a clergyman, but he was a shy man and stammered. On going up to Pembroke College, he realised that he was not to serve in the sanctuary so he decided to decorate it. He established his glassworks in London - The Kempe Studio - in 1869, producing stained glass and other decorative features, mainly for churches. He is associated with the Arts and Crafts Movement. He never married and was happiest when with his workmen, whom he would entertain in his beautiful home "
Old Place
" at Lindfield in Sussex.
(Return to top)