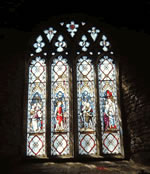 Chancel (Not Kempe's)
There is more Kempe glass to see in Much Marcle church nearby, and yet many more in Ledbury Church and Malvern Priory. It's interesting to look for Kempe's 'signature' of a golden wheat sheaf worked into the design.
There is a Kempe Society where you can learn more about this marvellous creator of church art. To go to their website
click here,
or contact them at 41 York Avenue, Crosby, Liverpool L23 SRN.
(Return to top)