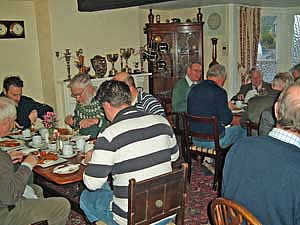 Our first Men's Breakfast this year was on the 14th January when our guest was Mr Chris Andrews, a professional sports coach who lives in the diocese but nearer to Bristol than Dymock. He qualified last September as a Licenced lay Reader and has combined those two skills into a new company called 'Roaring Rugby' to take rugby and cricket coaching into schools with a Christian emphasis.
(Return to top)
Chris said they link their Christian teaching to the diocesan 'Values' material taught in C of E schools but found that young people didn't know where those values come from (answer, the Bible) and often thought they were just made up by society so they could change them to suit themselves.
(Return to top)
His new company is seeking a grant from the diocese so that if the local parish makes a contribution, they can provide attractive professional sports training to schools at a very competitive price with the opportunity to explain the Gospel at the same time.
(Return to top)