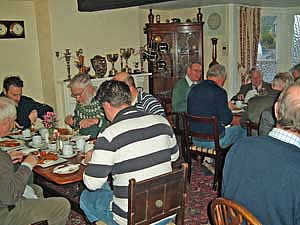 The guest at our first breakfast in 2016 was Rev'd Richard Atkins, a retired Methodist Minister on the Gloucester circuit and director of faith broadcasting for BBC Radio Gloucestershire, which involves him in liaising with many faiths, not just Christianity with visits to churches, schools and other faith events.
He explained that the BBC's 'flagship' programmes like Radio 4's 'Today' have many staff but for a local programme like the weekly Sunday Morning Breakfast show he's the journalist, producer and presenter all in one. He has to get up at 3:15am on a Sunday morning to be in the studio by 4:00 to get ready for the programme, which goes out from 6:00 - 8:00am, after which, and not withstanding that he's supposed to be a retired minister, it's not unusual to dash off to take a morning Service in a church somewhere in Gloucestershire.
His always been interested in football so can often been seen at Forest Green matches and still writes pieces for some papers on the subject, His other interest, when he gets some spare time, is history. All this keeps him busy because, as the journalist on the programme, he goes around Gloucestershire a lot to pick up useful material.
(Return to top)